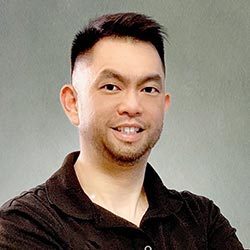 Chiropractor
Philip Que D.C.
Dr. Que received his Doctorate of Chiropractic degree in 2006 from the prestigious Palmer College of Chiropractic in Davenport, Iowa. Since graduation, he has invested many hours in continuing education dedicated to chiropractic technique, philosophy, and personal growth and development.
In addition to his love of adjusting children and families, Dr. Que is passionate about bringing cutting-edge wellness information and services to the community. He is committed to supporting people with the lifestyle modifications that is necessary to ensure a long life of health and wellness.
Dr. Que's mission is to empower as many people as possible to experience their optimal health potential through genuine wellness care and education. He does this by combining the very best hands-on technique with state of the art diagnostic equipment while at the same time focusing on a whole person approach to wellness.
Dr. Que is a member of the International Chiropractic Association, Illinois Prairie State Chiropractic Association, International Chiropractic Pediatric Association, and the Delta Sigma Chi Professional Chiropractic Fraternity.
Chiropractor
Joshua Que D.C.
Dr. Joshua Que graduated from Palmer Chiropractic College, in Davenport, IA, in the fall of 2017. Prior to attending Palmer Chiropractic College, Dr. Josh worked as a Radiologic Technologist in Batavia, NY. After some extensive research on what is health and how we see health in today's world, Dr. Josh decided to pursue a career in chiropractic. Upon going to chiropractic college, his knowledge and understanding of one's health grew as his point of view was widened. His goal as a chiropractor is to see his community living their life at 100% of their full potential without interference.
In his free time, Dr. Josh enjoys cooking. He loves learning to master different recipes and finds the process relaxing. Dr. Josh also enjoys kayaking as a past time.
Abbi has been a part of the Active Living Chiropractic Team since September 2009. She began working as the Front Desk Assistant, has progressed to an Exam Specialist & Patient Advocate, and is currently the Office Manager at Active Living Chiropractic.
Abbi is a licensed esthetician and is a graduate of the Chiropractic Assistant training program from the Chiro Academy. She has made it her mission to help Dr, Que bring chiropractic wellness care to Carpentersville and surrounding communities. She strives to help each patient unlock their body's innate potential by utilizing the best in service, technology, nutritional support, physical rehabilitation, and education to give you the tools needed to achieve true wellness.
"My life has been changed by chiropractic. I love my job and relish in the fact that while Dr. Que is changing lives for the better every day, so am I. I've learned that people will forget what you said, people will forget what you did, but people will never forget how you made them feel!"
OFFICE HOURS
---
Monday
9:30am - 12:00pm
3:30pm - 7:00pm
---
Tuesday
Closed
---
Wednesday
9:30am - 12:00pm
3:30pm - 7:00pm
---
Thursday
9:30am - 12:00pm
3:30pm - 7:00pm
---
Friday
9:30am - 12:00pm

---
Saturday
Closed